• 2012, The Bible, and the End of the World by Mark Hitchcock - (184 pages, $12.99)
In the first part of the book, the author clearly explains the significance of 2012 in the minds of those who believe it portends earth's doomsday. In the second part of the book, he unfolds biblical prophecy regarding the end-times from a pretribulational perspective. Consistent with his Christian calling, Hitchcock's volume reflects a reassuring pastoral tone and perspective. If you or someone you know wants a clear, sane Christian book regarding a supposed 2012 apocalypse, this is definitely the one.

• 5-Minute Apologetics for Today by Ron Rhodes - (379 pages, $14.99)
Apologist Ron Rhodes is always coming up with new ways in which to help believers contend for the faith. This book is the latest example of his creativity. It covers a wide spectrum of subject matter: systematic theology, heretical and aberrational teaching, prophecy, creationism, cults, and a lot more. This book is packed with helpful information which will develop one's discernment skills in many areas. The volume is introduced as a daily 5-minute exercise that can be used over the course of a year.

• 7 Toxic Ideas Polluting Your Mind by Anthony Selvaggio - (126 pages, $11.99)
In a day in which we are inundated with inaccurate and distorted interpretations of the "strongholds" which Paul metaphorically instructs believers to pull down (2 Corinthians 10:4), it is refreshing to read a sound exposition of the apostle's prescript. Far too often — by popular and best-selling authors — we are told these strongholds are any evil and every sin (from immorality to drunkenness to unrighteous anger). Anthony Selvaggio's book combats seven critical concepts which exalt themselves against the knowledge of God.

• ADHD: Deceptive Diagnosis by David M. Tyler and Kurt P. Grady – (180 pages, $12.95)
It is more than likely that everyone has known a child or an adult — or even been a person — who has been diagnosed with attention deficit hyperactive disorder. Help is here, not in the form of a pill, but with sound biblical advice on how to address this so-called "disease." This is a long-overdue work which should be read by not only the parents of those who have been labeled as such, but also by everyone concerned about over-medicating more than just children.

• Are There Contradictions In the Bible? by Ralph Muncaster - (48 pages, $4.99)
Critics and skeptics long have pointed to "biblical contradictions" to invalidate God's Word. This quick and easy-to-read volume is an excellent overview of key issues and alleged contradictions.

• Breaking The Da Vinci Code by Grizzly Adams Productions - (120-minute DVD, $9.99)
Breaking The DaVinci Code answers all the lingering questions and finally sets the record straight — through interviews with book authors and the world's leading experts in archeology, theology, art history, philosophy and science.

• The Big Book of Bible Answers by Ron Rhodes - (414 pages, $14.99)
This ''big book'' covers a lot of ground. The opening chapters focus on Scripture. Next, Rhodes addresses a variety of questions, misunderstandings, and objections regarding the nature of God. Then Rhodes moves into a variety of subject matter. He targets the skepticism of unbelievers and the theological paradoxes with which believers struggle. After all that, there's still another 40 percent of the book to go. Questions about angels and demons, prophecy and the afterlife, apologetic issues, and life and death ethics are posed and answered. The volume contains both subject and (primary) Scripture verse indexes.

• A Call for Discernment by Jay E. Adams - (139 pages, $9.95)
Spiritual discernment is critical in our times of false teachers. This work helps to determine what is God's truth and offers examples on how to apply it.

• The Certainty of the Faith by Richard B. Ramsay - (280 pages, $13.99)
Author Richard Ramsay tells us, ''Some people need a heavy dose of apologetic arguments to help bring them to Christ'' and that we need to ''realize that a good 'defense' of the gospel also includes a good 'offense.''' His book, The Certainty of the Faith, is excellent instruction toward those assignments. This volume is loaded with apologetic wisdom, peppered with Scripture throughout, and provides a rational basis for the Christian faith.

• Christian Apologetics by Norman Geisler - (393 pages, hardback, $19.95)
An encore printing of Geisler's treatise on apologetics. Covers methodology, theistic apologetics, and Christian apologetics. A valuable resource for reading and reference.


• Christian Confidence by Chris Sinkinson - (240 pages, $15.99)
There is a lot here between the covers of this book. Readers are shown not only reasons for apologetics, but its various forms, and a survey of some of the key objections raised against the Christian faith. Some may view apologetics as superfluous, but Sinkinson reminds us: "Apologetics is persuasive evangelism that engages with the real issues of the day."

• The Complete Guide to Bible Translations by Ron Rhodes - (272 pages, $13.99)
The publisher defines this book as "an indispensable guide to help readers through the maze of choosing a translation." This volume is that and more. Choosing a Bible translation could be likened to selecting an automobile. The Complete Guide to Bible Translations is a bit like picking up a copy of Consumer Reports before heading to the auto dealership.

• Crucified in the Media by C. Marvin Pate and Sheryl L. Pate - (222 pages, $13.99)
A wealth of information responding to contemporary issues such as the Jesus Seminar, The Da Vinci Code, The Bible Code, and more.

• The Da Vinci Code: Fact or Fiction? by Hank Hanegraaff and Paul L. Maier - (82 pages, $4.99)
Whether the questions raised in The DaVinci Code intrigue or infuriate you, this book will give you the historical and biblical facts to answer the tough questions.

• Evidence for Jesus by Ralph Muncaster - (219 pages, $10.99)
This volume is a straightforward and easy-to-understand work which gives a rich background of history, geography, and biography that brings Christianity — and its founder, Jesus — to life.

• A Fight to the Death by Wayne A. Mack with Joshua Mack - (176 pages, $10.99)
This book is a tremendous resource to help the believer in the area of progressive biblical sanctification. A proper understanding of sin is not only crucial, but essential for the Christian. Apathy toward sin is never an option, but for the Christian it is a matter which should daily be in their crosshairs with an aim to killing the sin within. This book will enlighten and enable the believer with a biblical approach to this goal.
• Four Views of the End Times by Rose Publications - (14-page pamphlet, $3.99)
This laminated fanfold pamphlet surveys the four primary eschatological beliefs that have been the most widely accepted in the Church: historical premillennialism, amillennialism, dispensational premillennialism, and postmillennialism. It presents an overview of each position, its emphasis, what Scriptures appear to support the view, when in Church history it was most popular, and which prominent Christian leaders have adopted the view.

• Free Will vs. Predestination by Rose Publications - (14-page pamphlet, $3.99)
This laminated pamphlet presents a side-by-side comparison of the differences between Calvinism (predestination) and Arminianism (free will). It provides a historical summation of each view by presenting key adherents to the respective position and further examines the five main issues of each theological belief: free will and total inability, election, atonement, grace, and security of the believer.
• God's Lesser Glory by Bruce A. Ware - (240 pages, $17.99)
Open theism (or neotheism) is creeping into Christian churches. Ware explores its implications and pinpoints the subtle ways that open theism undermines our trust in God and lessens His glory in our lives.

• The Harbinger: Fact or Fiction? by David James - (223 pages, $15.99)
David James is preeminently qualified to write this cutting edge critique of The Harbinger, Jonathan Cahn's runaway best selling fiction. James is meticulous in his research and documentation. He gets to the root of Cahn's problem and addresses Cahn's departure from sound hermeneutics. Discerning Christians need to stay current with the various whimsical fads infiltrating the Church (Acts 20:30-31). And to this end, this book is a must read.

• How to Overcome Evil by Jay E. Adams - (152 pages, $6.99)
The volume furnishes the biblical response toward conflict with not only enemies, but with family, fellow believers, co-workers, and neighbors. This information is vital because Christians are confronted with far too many quick fixes and fads, full of bizarre and unscriptural precepts, presented as methods for fighting evil. Adams' handbook is is faithful to Scripture and not only instructs the Christian as to the nature of evil and what a Christian must do to overcome evil, but how to do it.

• Hypnosis: Medical, Scientific, or Occultic? by Martin and Deidre Bobgan - (142 pages, $9.99)
Even in the halls of science, when one surrenders himself to hypnosis he is surrendering himself to the doorway to the occult. This volume shows how hypnotism is potentially dangerous at its best and demonic at its worst.

• "I Just Wanted More Land" — Jabez by Gary E. Gilley - (107 pages, $9.99)
A pithy and perceptive analysis of Bruce Wilkinson's mega-bestseller, The Prayer of Jabez. A warning against the danger of the poor Bible interpretations of Wilkinson.
• Give Them Truth by Starr Meade - (208 pages, $14.99)
This book calls attention to just how serious the education deprivation among children is and seeks its urgent correction. But it doesn't just tell us what's wrong. It is a volume rich with biblical truth and wisdom and loaded with encouragement and practical application. While this book is aimed at encouraging and providing a framework in which to biblically guide and instruct children, it will deepen the reader's own understanding of the importance of doctrine and how essential it is in the life of a believer — young or old!

• The Jesus Answer Book by John MacArthur - (206 pages, hardback, $14.99)
This volume is divided topically, in a Q&A format, to explore and explain important aspects of the person, teachings, and works of Jesus Christ. It is an effective and useful book that has application to a wide audience. It is an excellent resource to edify one already a believer, but also a great gift to give to a family member, co-worker, or neighbor who is a potential believer.
• Nine Marks of a Healthy Church by Mark Dever - (287 pages, $15.99)
In evaluating aberrational persuasions such as liberal, seeker-sensitive, and emerging churches, the attention often centers on the negative aspects of these groups. Dever's volume, on the other hand, targets the characteristics of a sound biblical church. And while it is important to know what makes for an unhealthy church, it is even more essential to know what makes for a healthy church. As such, this is a book that every Christian needs to read.

• No Other Gospel by Carol J. Ruvolo - (226 pages, $13.99)
This volume is an insightful study of Paul's letter to the Galatians. Knowing the threat of the false gospel of legalism is crucial. The book is designed in study format for use over 13 weeks either by an individual or as a group study. However, one can read this book more casually and still benefit from it. It will enrich and bless the life of any believer who reads it.

• One-Minute Answers for Skeptics by Charlie H. Campbell - (122 pages, $10.99)
This volume is a pithy collection of responses to many of the difficult questions about the Christian faith posed by unbelievers, inquisitors, skeptics, and critics. It contains 40 questions and their respective answers to a variety of subjects, including Scripture, the exclusivism of Christianity, world religions, social issues, and evolution.

• Out of Formation by Gary E. Gilley - (292 pages, $14.99)
Perhaps there are some who are unaware — or unconcerned — of the effects and prevalence of the spiritual formation movement. However, they should be both aware and concerned. The intent and consequences of these revived ancient mystical practices leads one away from a proper biblical path of spiritual discipline. This book is presented in two main sections. Part one contains the players and the practices of the spiritual formation movement. Part two of the book sets right the unbiblical SFM components by examining true biblical discipleship.

• The Popular Dictionary of Bible Prophecy by Ron Rhodes - (340 pages, $14.99)
Where could one have over 350 terms and concepts regarding Bible prophecy defined and explained? This book would be the answer. As an apologist, Rhodes has an excellent track record, so we can have confidence in his handling of God's Word, especially in the much debated arena of prophecy and eschatology. This book presents a sane, sound, balanced, and biblical approach to understanding the end-times.

• The Popular Handbook of Archaeology and the Bible by Joseph M. Holden & Norman Geisler - (417 pages, $26.99)
This hardback volume will stretch the thinking of enthusiastic and serious students of the Bible. It is not just about
archaeology, but includes many foundational and fundamental apologetic issues. It is a great refresher course for pastors and a great introductory course for any interested in evidence for Christianity. It is filled with archaeological material that can be mined to illustrate many portions of Scripture and to offset the revisionism and denial of the Bible so prevalent in our world.

• Rose Book of Bible Charts, Maps, and Time Lines by Rose Publishing - (192 pages, $29.99)
This oversized, hardcover book contains a wealth of rich Bible facts, figures, and visuals presented in ''Technicolor.'' It will enhance the Bible for any — young, old, novice, or seasoned — student of Scripture. A must for Sunday school or Bible study teachers.

• Rose Book of Bible Charts, Volume 2 by Rose Publishing - (192 pages, $29.99)
This new volume incorporates much of the newer materials published in 2006 and beyond. As with the first publication, the range of topics presented in these outlines and histograms are useful for personal study, Sunday school, Bible classes, and homeschoolers.

• Searching for the Original Bible by Randall Price - (293 pages, $12.99)
This is a dynamite book at an unbeatable price. Charles Ryrie says: "Thorough research, informative sidebars, charts, photographs, and clearing writing all combine to make this book a significant, up-to-date defense of the inerrancy and reliability of our Bible."

• Solid Ground by Gabriel N.E. Fluhrer, Editor - (155 pages $13.99)
This book is an excellent collection of essays by eight prominent authors, pastors and teachers who are committed to the "vital conviction that the Bible is the Word of God, and so without error in its original autographs, the only infallible rule of faith and practice." Those contributing to this volume include J.I. Packer, R.C. Sproul, Mark Dever, the late James M. Boice (to whom the book is dedicated) and four others. This book challenges and convicts toward a renewed love of and appreciation for the richness and perfection of the Bible.

• Taking a Stand for the Bible by John Ankerberg and Dillon Burroughs - (222 pages, $12.99)
While not an exhaustive treatment of the subject matter, Ankerberg and Burroughs provide a terrific synopsis in each chapter, which should spur the reader to deeper study. Here are some of the topics: Biblical inspiration, the five rules of how the New Testament books were accepted (or canonized), handling perceived contradictions in the Bible, the necessity of full biblical inerrancy, statements in Scripture affirmed by modern science, how archaeology affirms the truthfulness of the Bible, and a whole lot more.

• Things That Go Bump in the Church by Mike Abendroth, Clint Archer and Byron Yawn - (205 pages, $14.99)
This book's back cover says, ''Some teachings in the Bible make things go bump in the church — usually because they stir a lot of questions or uncertainty or strong feelings.'' The volume is a great discussion of a variety of beliefs which are debated within various theological circles. Some of these beliefs have been argued for centuries, while others are of more recent heritage.

• Think Biblically! by John MacArthur (and The Master's College Faculty) - (368 pages, $19.99)
What we think shapes who we are. With the Bible in their hands, the authors confront the false worldviews that dominate our postmodern world and help cultivate a biblical mindset on worship, psychology, gender, science, education, history, government, economics, and literature.

• This Little Church Had None by Gary E. Gilley with Jay Wegter - (236 pages, $14.95)
This meticulous study shows the road now being traveled by the 21st century "new paradigm church." The reader is introduced to the the "process of metamorphosis" being employed by the seeker-sensitive movement and the "emergent conversation." Also surveyed are the "invasion of paganism," the challenge of pragmatism, and the onslaught of the new atheism against the Church. The final part, written primarily by Jay Wegter, focuses on evangelism. It is a book, not ust for concerned leadership of the Church, but for any Christian who desires "a church in search of the truth."

• This Little Church Stayed Home by Gary E. Gilley - (190 pages, $13.99)
The vast scope and extensive information of this volume makes it one of the finest works examining the plight of the contemporary Church. From postmoderism and relativism to inclusivism, mysticism and pragmatism to the emergent church movement, Gary Gilley has it all covered. Christians can be forewarned and forearmed by this book.

• This Little Church Went to Market by Gary E. Gilley - (144 pages, $10.99)
This publication takes on pragmatism in the Church, namely how the Christian community has moved from being Scripture-based to being market-driven.
• The 10 Things You Need to Know About Islam by Ron Rhodes - (155 pages, $10.99)
The 10 things that Rhodes wants his readers to know about Islam include the divisions of Islam, the scripture of Islam, the prophet of Islam, and the God of Islam. He also surveys the five pillars (or acts) of Islam, examines Islamic teachings on salvation and judgment, and summarizes what Muslims believe about Jesus and the Bible. Rhodes covers the spiritual and the practical by advising his readers on how to dialogue with and witness to Muslims.
• Are Seventh-day Adventists False Prophets? by Wallace Slattery - (60 pages, $5.99)
Former SDA church member struggled with the history and doctrines of Adventism as it compares to what the Bible teaches. Slattery equips you to witness competently and with empathy.
• Bruce & Stan's Pocket Guide to Islam by Bruce Bickel and Stan Jantz (128 pages, $6.95)
A user friendly guide to understanding the similarities and crucial differences between Islam and Christianity. A concise overview of what the religion of Islam is all about.
• The Complete Guide to Christian Denominations by Ron Rhodes - (397 pages, $14.99)
A great resource to better understand some of the prominent denominations in existence today. The religious terrain Rhodes covers includes Roman Catholicism, Protestantism, and the Orthodox Church.
• The Facts on Islam by John Ankerberg & John Weldon - (48 pages, $3.99)
Where did the world's second largest religion come from and what does it teach? These questions are answered in this compact booklet.
• The Nation of Islam by Steven Tsoukalas - (211 pages, $14.99)
This well-researched volume is the definitive study for a Christian-based understanding of the sociological, historical and theological dynamics of the Black Muslim religion.
• Reasoning from the Scriptures with Masons by Ron Rhodes - (308 pages, $13.99)
This volume is a vital work to help combat Freemasonry's acceptance within the Church and to expose its inconsistency with the Christian faith.
• Reasoning from the Scriptures with the Muslims by Ron Rhodes - (342 pages, $13.99)
Written in understandable terms, this volume examines the history, founder and beliefs of the Muslim faith. Also included is a comparison between Islamic and Christian doctrine.
• Seventh-day Adventism by Grace Upon Grace Productions - (50-minute VHS or DVD, $19.95)
SDA history is laid out and visions of false prophet, Ellen G. White are described. Primary documentation is presented to answer your question as to the SDA church being cult or Christian.
• The Truth About Islam by Anees Zaka and Diane Coleman – (194 pages, $11.99)
An excellent exposition of the teachings of the Islamic faith from its holy book the Qur'an in light of the Holy Bible. A tremendous resource for those wanting to understand and evangelize Muslims.
Mormonism (The Church of Jesus Christ of Latter-day Saints):
• The 10 Most Important Things You Can Say to a Mormon by Ron Rhodes - (128 pages, $9.99)
Exposes crucial differences between biblical Christianity and Latter-day Saints' beliefs. A wealth of information and counsel to aid in understanding the Mormon church and witnessing to its members.
• The Bible vs. The Book of Mormon by Living Hope Ministries – (66-minute VHS $7.95 or DVD $14.95)
Is The Book of Mormon superior to the Bible? This is a wonderful presentation, not only to entreat Mormons to consider and weigh the facts, but also for Christians to ponder and comprehend.
• A Christian Woman's Guide to Understanding Mormonism by Donna Morley - (240 pages, $11.99)
This book will equip you with the basic essentials for pointing Mormons to Christ and biblical truth. Contains practical illustrations and step-by-step guidelines.
• DNA vs. The Book of Mormon by Living Hope Ministries - (49-minute VHS $7.95 or DVD $14.95)
This video has collected the facts and demonstrates how forensic science further evidences what archaeologists and anthropologists have long said: The Book of Mormon's claims are erroneous.
• Reasoning from the Scriptures with the Mormons by Ron Rhodes & Marian Bodine - (425 pages, $14.99)
Mormon beliefs are thoroughly contrasted with Christian theology and thought-provoking questions are intermingled throughout the book designed to stimulate discussion with Mormons. The work can be used as an in-depth study or as a ready reference.
Occult, Demons, Satanism, and Witchcraft:
• 101 Answers to Questions About Satan, Demons, & Spiritual Warfare by Mark Hitchcock - (233 pages, $13.99)
Numerous Christian books have been written about Satan, demons, and spiritual warfare. This one is easy to understand, useful, interesting, informative, and doctrinally sound. The question-and-answer format breaks up the information into easily accessible topics. It has helpful biblical statistical and linguistic information related to the topics and Hitchcock gives a number of powerful illustrations and anecdotes.
• Protecting Your Teen from Today's Witchcraft by Steve Russo - (223 pages, $13.99)
Is your teen in danger? Wicca (witchcraft) has an ever-increasing presence on high school campuses. Paganism is enticing countless teens — including many in churches. This volume presents solid, practical advice for guiding kids in the right direction.
• Selling Satan by Mike Hertenstein and Jon Trott - (477 pages, $15.95)
Investigative journalism at its finest. The authors examine the life and claims of alleged "satanic high priest"-turned-Christian minister/entertainer Mike Warnke. A stunning study into the gullibility of the Evangelical Christian community.
• Spellbound by Marcia Montenegro – (256 pages, $13.99)
Television, movies, and books saturate our culture with the supernatural and blur the lines between good and evil. This is an excellent biblical examination of the occult and paranormal. A very helpful resource for Christian parents.
• What's the Deal With Wicca? by Steve Russo – (192 pages, $11.99)
This volume is an informative work written either for a searching parent or for a teen who is either dabbling in witchcraft or who has a friend enticed by it. The book also explains the difference between Wicca and Christianity, and brings the reader back to what the Bible teaches regarding key issues.
• Witchcraft: Exploring the World of Wicca by Craig S. Hawkins - (227 pages, $19.99)
Three main areas are discussed: beliefs of witches, witchcraft and neopaganism as viewed by the Scriptures and philosophical holes in the worldview of witches.
Spiritual Abuse and Guidance:
• The Christian's Guide to Guidance by Jay E. Adams - (97 pages, $8.95)
Making right decisions is a crucial issue and has given fuel to shepherding and abusive groups. The author explains how Scripture is the only basis for a Christian's guidance.
• Damaged Disciples by Ron & Vicki Burks - (176 pages, $7.99)
Understand through first-hand experiences the manipulative methods that take place within discipleship or shepherding groups. Help is given for those who are out of the movement struggling to re-establish their lives.
• Decision Making God's Way by Gary Meadors - (232 pages, $12.99)
This book is practical, readable, and may well be a lifesaver as it provides a biblical framework to counter the subjectivism and mysticism of our uncertain age.
• Decision Making and the Will of God by Garry Friesen with J. Robin Maxson - (452 pages, $14.99 standard edition, $6.99 pocketbook edition)
With commitment to the Scriptures, Friesen takes the reader through realistic life issues (choosing a mate, picking a career, etc) to discover how to know the will of God.
• Is That You Lord? by Gary E. Gilley - (96 pages, $9.99)
This book provides sound biblical instruction about knowing the will of God and how to make wise decisions that please and honor God — and just how much freedom we have in many of those choices. It is a life preserver for those floating in a sea of subjectivism who are listening for God to speak in all the wrong ways.
• A Matter of Basic Principles (Bill Gothard and the Christian Life) by Don and Joy Veinot and Ron Henzel - (383 pages, $15.99)
The trail of broken lives and split churches in the wake of Bill Gothard and his teachings is unprecedented in modern times. This ground-breaking book is top notch research, religious investigative journalism, and Bible exposition at its finest.
• Step by Step by James Petty - (276 pages, $14.99)
Full of wisdom from biblical guidance, this work helps you to make critical life choices and personal decisions reliably and with discernment.
• The Subtle Power of Spiritual Abuse by David Johnson & Jeff VanVonderen - (235 pages, $13.99)
Don't be misled by legalism and guilt. Recognize spiritual manipulation and an erroneous spiritual control within the church.
• The Use of the Rod and Staff by Jay Adams - (89 pages, $9.99)
Adams urges Church leaders to carry out their divine call to protect their flocks from wolves. Anyone can benefit from this book as it will help all know what a true shepherd is by comparison to the foolish shepherd mentioned in Zechariah 11:15.
Spiritual Warfare, Christian Growth and Disciplines:
• From Forgiven to Forgiving by Jay Adams - (175 pages, $14.95)
Experience a new freedom in Christ as you learn to relate and communicate principles of forgiveness. Modern-day psychologists promote a "forgive and forget" attitude even when forgiveness has not been sought, but is this biblical? Through a systematic study, Adams has the answers.
• Grace to Stand Firm, Grace to Grow by Carol J. Ruvolo - (252 pages, $11.99)
Powerful biblical insight from 1 & 2 Peter, helping believers to allow their faith to shine in the midst of persecution and trials and transforming them into the image of Christ.
• How to Help People in Conflict by Jay E. Adams - (156 pages, $13.99)
In this book, the author defines biblical peace and describes, at length, the peacemaker and what is needed. Also explained in detail is how to pursue peace and bring peace into situations in which people have given up hope.
• Instruments in the Redeemer's Hands by Paul David Tripp - (360 pages, $16.99)
While this is not a new volume — it's almost a decade old — it is one that is often called the most valuable book for those interested in biblical counseling. If there is a complete volume on biblical counseling, this is it. The book is not only useful to biblical counselors, but also to anyone desiring to grow in Christ and help others do the same.
• Life in the Father's House by Wayne Mack & David Swavely - (280 pages, $12.99)
This book lays the ground work for the responsibility and conduct that Christians should take in their role as church members. Newly updated and expanded edition.
• Maintaining the Delicate Balance in Christian Living by Jay Adams - (115 pages, $9.95)
While Christians can be tempted toward sin, Adams describes how to accomplish and preserve a biblical balance.
• Overcoming Fear, Worry, and Anxiety by Elyse Fitzpatrick - (224 pages, $11.99)
The most crippling effects of being involved with a cult are those generated by fear, worry, and anxiety — but one need not be in a cult to be exposed to such problems. This book is a great antidote of biblical help.
• The Peacemaker by Ken Sande - (318 pages, $16.99)
Personal strife is certain. This volume is the definitive work on conflict resolution — great or small. Sande uses easy-to-remember guidelines to assist readers to digest needed information. It is full of wisdom.
• Quick Scripture Reference for Counseling by John G. Kruis - (208 pages, $12.99)
• Quick Scripture Reference for Counseling Women by Patricia A. Miller - (208 pages, $12.99)
• Quick Scripture Reference for Counseling Youth by Patricia & Keith Miller - (245 pages, $12.99)
These useful guidebooks and counseling tools are for all Christians. Each spiral bound book lists Scripture passages relevant to a variety of important topics and issues.
• Ten Questions to Diagnose Your Spiritual Health by Donald S. Whitney - (141 pages, $10.99)
The purpose of this volume is to help lead Christians to a deeper relationship with the Lord through a series of questions and constructive disciplines to a life of growth in godliness. In this day and age of spiritual deficiency, this work is a wonderful guidebook for the believer's process of biblical sanctification.
• A Thirst for Wholeness by Jay E. Adams - (142 pages, $9.99)
This book is a study of the book of James and is a wonderful antidote for the plethora of misguided and even lethal diagnoses and remedies of today's pop psychologists and theologians. It's also a tribute to the enduring wisdom and instruction of the Word.
• Transformed Into His Likeness by Armand P. Tiffe - (32 pages, $9.95)
This book is a welcome and valuable tool containing a thorough and precise study for personal change directed toward godliness. Listed are more than 100 sins and problems with which Christians struggle. The sin/problem list is divided into three columns. The left side lists the sin/problem to be put off, the middle column gives the scriptural practice to be put on, and the last column provides biblical references pertinent to breaking the old and establishing the new.
• Will Medicine Stop the Pain? by Elyse Fitzpatrick & Laura Hendrickson - (234 pages, $13.99)
A compelling book which helps one to trust God with all life's problems to get off the merry-go-round of hopelessness and despair.
• Winning the War Within by Jay Adams - (154 pages, $8.95)
There is victory over sin! Understand and apply the biblical process of overcoming habits and evil tendencies and put on the qualities and behaviors of Christ.
Phone Orders: Phone orders are accepted. Simply call us at (314) 921-9800 and charge your order to your credit card. In most cases, your order will be shipped within 24 hours of your call (Monday through Friday only).
Payment: Check, Money Order or Credit Card authorization must be included with order. Foreign orders must be prepaid via an International Money Order payable in U.S. Funds only or with a credit card. Canadian orders may also be paid via a Canadian Postal Money Order in U.S. Funds.
Shipping Charges: Please add $4.00 for first book; $1.50 for each additional book. Canadian orders add $12.00 per book for the first two books; $6.00 for each additional book over two. Postage for foreign shipments is by weight: orders up to 8 ounces, add $16.00; orders from 9 through 32 ounces, add $30.00; orders from 33 through 48 ounces, add $45.00. (You may call our office to obtain exact weights and shipping costs.)
Shipping Information: We ship domestic book orders via "Media Mail" (Book Rate). Foreign orders are shipped via "First Class Mail International." Domestic orders please allow up to two weeks for delivery. Foreign orders please allow up to eight weeks for delivery. Optional "Priority Mail" for domestic (U.S.A.) orders is available. Please call for rates.
Minimum Order: $2.00 surcharge on credit card orders less than $10.
Call or write: Personal Freedom Outreach • P.O. Box 26062 • Saint Louis, MO 63136-0062 • (314) 921-9800













































• 10 Questions & Answers on Seventh-day Adventism by Paul Carden, General Editor - (14-page pamphlet, $3.99)
One of the more prominent religious movements which, through the years, has been able to escape a strict and biblical investigation has been the Seventh-day Adventist church. Yet, the movement is permeated with unbiblical doctrine and a suspicious heritage. That's why this laminated fanfold pamphlet is a beneficial resource. The full-color laminated pamphlet covers key, more well-known facets of Adventism, as well as other, lesser-known, aspects.


• The King James Only Controversy by James R. White - (286 pages, $13.99)
Wrestle no more with whether or not the King James is the only reliable translation of scripture. Learn of the formation and accuracy of other translations. This volume is the definitive work on the subject.

• One Bible Only? by Roy E. Beacham and Kevin T. Bauder - (238 pages, $13.99)
This volume examines the question, "Is there only one inspired Bible?" The debate over the veracity of modern translations of the Bible continues to create confusion in the minds of believers who know that Scripture lies at the heart of the Christian faith. Yet many don't understand why some believers insist that the King James Version is the only accurate translation of the Bible. The authors address the issues of origin, textual variant, and fallibility by drawing on the best current scholarship.

• Catholicism: Crisis of Faith - Lumen Productions - (54-minute video on DVD or VHS, $19.95)
Learn the cause of the present crisis facing the Roman Catholic Church by investigation of its doctrines and practice.

• The Gospel According to Rome by James G. McCarthy - (397 pages, $12.99)
Has today's Catholic Church changed? This book is an authoritative and insightful response by a former Catholic to the new publication, Catechism of the Catholic Church.

• Messages from Heaven by Eternal Productions - (87-minute VHS, $2.95 - web site special price)
This video gives solid evidence as to how "shamelessly unbiblical" are the alleged apparitions of the Virgin Mary. The presentation is superior quality, with good photography and excellent visual and sound effects.

• Reasoning from the Scriptures with Catholics by Ron Rhodes - (359 pages, $13.99)
A complete handbook with a step-by-step guide to sharing the Good News of salvation by faith alone with Catholics.


• The Facts on The Faith Movement by John Ankerberg & John Weldon - (48 pages, $3.99)
The growing and much-publicized Faith Movement has captured literally millions of Christians with its seductive claims — but is it biblical? This small booklet provides answers to some of the key questions about the movement and its leaders, including their basic teachings and Scripture misinterpretations.


• Healing in the Name of God by Ted Schwarz - (203 pages, $9.99)
Healings from all viewpoints — religion, psychology; superstition, medical science and well-intentioned and fraudulent faith healers — are examined.

• The Many Faces of Benny Hinn 3.0 by The Door Magazine - (6-hour 3-DVD set, $29.95)
A compilation of major news media's investigative exposés, crusade clips, Praise the Lord and This is Your Day film clips exposing the escapades of the controversial faith healer, Benny Hinn.

• The Seduction of Christianity by Dave Hunt & T. A. McMahon - (239 pages, $11.99)
This is the book that was the wake-up call to an undiscerning church — calling every believer to discern the counterfeit. This volume explores just how the false teachings of the New Age Movement have infiltrated the church through psychotherapy, positive confessions, and a whole spectrum of self-improvement and success/motivation techniques.

• Strange Fire by John MacArthur - (331 pages, $22.99)
This publication is a timely and valuable work. The reader will learn much about the history, doctrine, dangers, and influences of the Pentecostal/Charismatic Movement. For those who identify themselves as New Calvinists, and are open to the charismatic gifts of tongues, healings, and prophecy, it is hoped that this book will be carefully read and cause them to reconsider their position.

• Wandering Stars by Keith Gibson - (306 pages, $25.00)
If you only own one book on the history, heresies, and aberrations of the New Apostolic and Prophetic Movement, make it this one because it is so comprehensive. The author produces an incredible amount of material and information from firsthand sources and from the writings and public statements of these heretical teachers themselves. Their own words condemn them. What is exposed is a group of false teachers who are presenting an imaginary and fictitious portrait of God, Christ, the Gospel, and the Christian life; and who end up with a diminished God, and a diminished Bible.
Jehovah's Witnesses (Watchtower Bible & Tract Society):

• The 10 Most Important Things You Can Say to a Jehovah's Witness by Ron Rhodes - (128 pages, $9.99)
Spotlights the critical errors of Watchtower theology. This fact-filled, easy-to-understand, and visually appealing volume is a great witnessing resource.

• Conversations with Jehovah's Witnesses by Ron Rhodes - (222 pages, $12.99)
This publication guides you through realistic dialogues with Jehovah's Witnesses, demonstrating helpful techniques for listening, asking questions, avoiding offense, and more. With this practical, kindhearted, and easy-to-understand resource, you can begin to enjoy discussions about your faith when Jehovah's Witnesses come to call.

• Dictionary of Watchtower Documents by Gospel Defense Publications - (CD-Rom, uses Adobe Acrobat Reader, $29.95)
This CD-Rom allows you to view and print the Watchtower documents just as they appeared in the original magazine or book. Over 50 topics specific to such issues as the theological changes and false prophecies of the Jehovah's Witness organization.

• Reasoning from the Scriptures with the Jehovah's Witnesses by Ron Rhodes - (458 pages, $15.99)
Updated and Expanded! –
After reading scriptural passages, then explaining what is meant by them, the author suggests that you ask the
Jehovah's Witness specific questions related to the text.

• God's Super-Apostles by R. Douglas Geivett and Holly Pivec (159 pages, $12.99)
There are probably a lot of Christians within evangelical and mainstream churches who know very little about the New Apostolic Reformation movement. However, this group of authority-wielding, self-appointed apostles, prophets, miracle workers, and demon busters is a force to be reckoned with. God's Super-Apostles is a well-written inventory of the critical teachings (apostles, prophets, spiritual warfare, and miracles) and key participants of the movement. Geivett and Pivec establish just how far afield and bizarre this movement is.
• The Final Word by O. Palmer Robertson - (150 pages, $7.99)
This is a biblical response to the case for tongues and prophecy today. Direct response to arguments by Wayne Grudem and others.

• Where Is God In All Of This? by Deborah Howard - (158 pages, $9.99)
Among the prosperity gospel and Word-Faith proponents there is a distortion of what role adversity and sorrow play in the lives of believers. Additionally, nonbelievers frequently use evil, sickness, suffering, and tragedy to question God's goodness and His power and authority — or even His existence. Therefore, a biblical understanding of these things is essential for the Christian. Howard's book is an excellent resource in setting forth sound doctrine and a proper interpretation of Scripture in this regard.

• Who Are You to Judge? by David Swavely - (213 pages, $13.99)
This book challenges our thinking in the areas of music, working mothers, birth control, gambling, alcohol consumption, demand feeding, frequency of the Lord's Supper, home/Christian school vs. public school, fasting, movies, television, art, and even coffee drinking. It takes every issue back to Scripture, examines it in the light of God's Word, and refuses to go where God does not go.

• Why Christians Can't Trust Psychology by Ed Bulkley - (368 pages, $13.99)
Thousands look to "Christian psychology" to help them attain victory over modern dysfunctions. Some argue we need the Bible plus psychology, others say the Bible alone is sufficient. Bulkley presents both sides of the issue and offers a trustworthy, biblical response.

• Why God Gave Us a Book by Gene Edward Veith – (44 pages, $4.99)
Author Veith tells us that without a commitment to a sufficient Scripture, "many try to supplement the Bible with human reason, scientific scholarship, sociological research, or the findings of modern psychology. Still others try to supplement the Bible with mystical experiences, inner convictions, and personal revelations" (pg. 6). This volume can be easily read and comprehended in a single session and will help you develop a strong apologetic on the sufficiency of Scripture.

• The 10 Most Important Things You Can Say to a Catholic by Ron Rhodes - (128 pages, $9.99)
Fact-filled and easy to read, this volume provides the tools needed to effectively talk to Catholics about their faith and guide them to the good news of God's free grace through Jesus Christ.
Charismatic Extremism and Word-Faith Movement:
• From the Pinnacle of the Temple by Charles Farah, Jr. - (243 pages, $9.99)
One of the first works to examine the "faith" movement. Written by the professor of Theological and Historical Studies at Oral Roberts University.

• Unmasking the Antichrist by Ron Rhodes - (249 pages, $13.99)
So much artificial, exaggerated, and unbiblical guesswork surrounds the topic of the antichrist these days. The ''name game'' and ''dating game'' sell big but are always huge failures because they are based purely on speculation and imagination, not the Scriptures. That's why Unmasking the Antichrist is timely and extremely relevant. It is a study not driven by sensationalism and news headlines — only by the Bible.

• What Did Jesus Mean? by Ron Rhodes - (239 pages, $10.99)
This easy-to-read work gives clear understanding of the sometimes complex expressions of Jesus. A subject index enhances the book.

• Truth Matters by Andreas Köstenberger, Darrell Bock, and Josh Chatraw - (188 pages, $12.99)
Although this book is geared toward college students, it would be of benefit to anyone who has been challenged by the skeptical assaults on the Bible and the Christian faith promoted by popular contemporary agnostic religion professor Bart Ehrman and similar non-Christian academics. College students, particularly, are a critical audience to target, since this is a time in life when young people are especially susceptible to being influenced away from the Christian faith by seemingly sophisticated, knowledgeable, and unbelieving professors.
• By Which We Are Saved by Preston and Kelly Condra - (170 pages, $14.95)
For far too many Christians, witnessing to lost family, friends, neighbors, co-workers, and others is not a priority. As the authors correctly note, "witnessing can be daunting, discouraging, and difficult in many ways." In view of this unfortunate reality, By Which We Are Saved is a strategic resource which shows how evangelistic efforts should be firmly based in apologetics. This book is a valuable resource to edify members of the body of Christ (Ephesians 4:12) making them ready, willing, and able to share the Gospel to a lost and dying world.
© 2023– Personal Freedom Outreach. All rights reserved.

• Singing and Making Music by Paul S. Jones - (315 pages, $16.99)
In far too many of its functions, the church of the twentieth-first century has embodied the postmodern, pragmatic culture of our day. One clear witness to this is in church worship music. Thankfully, there is Paul Jones who sounds the alarm and presents razor-sharp discernment and theological understanding in his Singing and Making Music. The volume is a collection of more than thirty easily digested essays (or chapters) which speak to a variety of issues in church music today.

• Right Thinking In a Church Gone Astray by Nathan Busenitz, General Editor - (249 pages, $15.99)
This volume, written by a dozen men associated with John MacArthur and The Master's Seminary, is a collection of essays which focus directly upon matters related to the church. It covers a wide range of subjects, including Christian celebritism, Muslim debates, homosexuality, mysticism, charismatic teachings, and other important doctrinal concerns. The common thread running through Right Thinking is a call to evaluate every trend, every fad, every movement, every doctrine by the authoratative Word of God. This book comes highly recommended.
• Every Thought Captive by Richard L. Pratt, Jr. - (142 pages, $9.99)
It is helpful for the student of apologetics to have a basic understanding of the different views of apologetics (e.g., classical, presuppositional, and evidential methods), thereby drawing from the strengths and avoiding the weaknesses of each model. Every Thought Captive will provide the particulars of the presuppositional method and enhance a believer's ability to effectively respond to objections to the Christian faith. While one may not accept Pratt's model wholesale, much can be gleaned from it.
• The Coming Apostasy by Mark Hitchcock and Jeff Kinley - (205 pages, $15.99)
This book addresses several threats infiltrating the Church including a replacement of the Bible as the believer's source of authority with other things such as experiences, a replacement of the biblical Jesus with "another Jesus," and a growing acceptance and praise of homosexuality and gender confusion by portions of the professing Christian Church. It contains good and salutary counsel, teaching, and exhortation considering some of the threats that are assaulting the Church today — not only from the outside, but also from within.
• God's Not Dead by Rice Broocks - (279 pages, $15.99)
Despite a few caveats, this book is an easy-to-read resource to combat the "backlash of the meaninglessness of atheism and unbelief." The major portion of the book — chapters 2 through 10 — offers nine key proofs "that present a solid foundation for believers of all ages and educational backgrounds." The book spotlights not only the prominent athesists of our day, but also present-day apologists and theologians. While the book shares its name with the title of the popular movie, it is not a novelization of the screenplay, but an apologetic overview.








Please note: While PFO makes every attempt to keep in stock the books listed, publishers do discontinue older titles as they publish newer ones. Therefore, PFO cannot guarantee availability of books which go out-of-print. You may wish to phone our office (314-921-9800) to confirm availability prior to mailing your order. Phone orders (paid by credit card) will be confirmed at the time of order. Also due to occasional price increases by the publishers, the prices listed are subject to change without notice.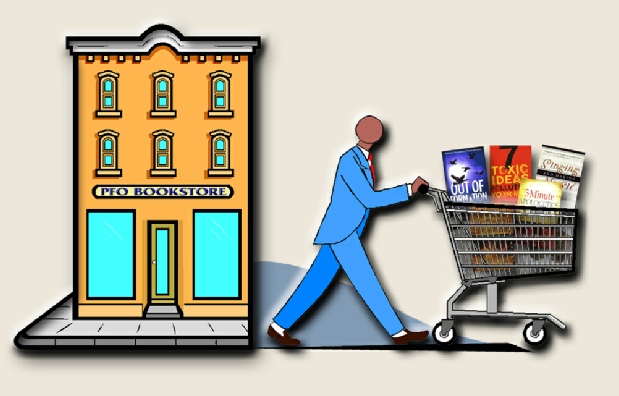 A Resource List of Significant Apologetic Works by Respected Authors for the Discerning Reader
APOLOGETICS/THEOLOGY/DISCERNMENT ISSUES:


Apologetics, Theological, and Discernment Issues:



• 10 Mistakes People Make About Heaven, Hell and the Afterlife by Mike Fabarez - (200 pages, $13.99)
This book is a great apologetic resource that takes on a variety of beliefs, which the author labels "mistakes," that correspond to the end-of-life worldviews of not only those of our modern anti-Christian culture, but also of Catholics, cultists, such as Seventh-day Adventists and Jehovah's Witnesses, and "so-called Christian leaders" such as Rob Bell, author of Love Wins.

• Believe by Randy Frazee (General Editor) - (520 pages, $24.99)
Because doctrine affects and shapes how we live, Believe is a book worth reading. A key distinctive that separates this book from other general theological works is that the bulk of its content is cited Scripture (NKJV). The book is divided into three 10-chapter sections: Think (What do I believe?), Act (What should I do?), and Be (Who am I becoming?). This is a volume that provides both doctrine and practice. With its rich vein of Scripture, there is much helpful and rewarding content that can be mined from Believe.

• The End Times Survival Guide by Mark Hitchcock - (213 pages, $15.99)
Each of the book's ten chapters deals with a particular topic, including: handling worry, spiritual warfare, prayer, what we should be doing while waiting for Christ's return, being filled with the Spirit, viewing world events from God's perspective, and Christ's return. The believer will be nourished, encouraged, and challenged at times by Hitchcock's exposition of Scripture, and by his salutary teaching on subjects of practical importance and great relevance to believers in their Christian walk, in these difficult days.

• Why Does God Allow Evil? by Clay Jones – (272 pages, $15.99)
Clay Jones covers a lot of ground in this book as to why there is evil and suffering in this world, including answering where did evil originate, why did Adam sin, and why the effects of that sin are passed onto us. And that's just the first chapter! This volume has a whole lot to offer in way of biblically and logically helping the believer work through the "problem" of why a good God allows evil and suffering, and in understanding the depths of human sinfulness.

• Visits to Heaven and Back – Are They Real? by Mark Hitchcock - (221 pages, $15.99)
In the late 20th century claims of visits to heaven or hell and back appeared in bookstores. This genre's popularity increased in the new millennium. Mark Hitchcock brings the discerning Christian up to date with the latest wave of "heavenly tourists" and their books. Those who are interested in "heavenly tourism," near-death experiences, purported visits to hell, the subject of heaven, and answers to some common questions about heaven will find this book helpful.
• God Breathed by Josh McDowell - (224 pages, $16.99)
This book provides an excellent overview of "the undeniable power and reliability of Scripture," which is the subtitle of the book. McDowell offers much supporting evidence to the one considering or skeptical of the Christian faith or for the believer who wants to gain a better understanding why he or she can confidently trust the Bible as the inspired, inerrant Word of God. The book is easy to read, but that doesn't mean it's short on scholarly detail or evidences. This book will equip you to give a defense that the Bible is indeed God-breathed.


• Daily Readings: The Early Church Fathers edited by Nick Needham - (400 pages, $19.99)
Daily devotionals can encourage, educate, inspire, strengthen, and challenge one's Christian faith. But too often devotions stumble by using troublesome ideas and sources. The quandary for the discerning Christian is in finding a devotional that is doctrinally sound. Daily Readings: The Early Church Fathers is that devotional publication. It uses passages from the Church Fathers which express the basics of early Church belief about the nature of theology that will help the believer reflect upon and share the faith once delivered.

• Urban Legends of the New Testament by David Croteau - (255 pages, $14.99)
David Croteau says when one neglects a Scripture passage's context or misuses historical background information or misunderstands the Greek language he can get a Bible ''truth'' circulated as though true but not true. He examines the New Testament and has collected what he sees as 40 of the most commonly misinterpreted passages. Every Bible student should have a section in his library which includes publications that examine and answer supposed discrepancies, alleged contradictions, and difficult sayings found in Scripture. This is a volume that should be in that section.
• The Most Misused Verses in the Bible by Eric J. Bargerhuff - (172 pages, $12.99)
Author Eric Bargerhuff warns us that Christians should be aware that, even for the child of God, "if mishandled and used inappropriately, the Bible can turn into a dangerous book." To assist in this safeguard, he offers a collection of 17 Scripture passages that he sees as the most misused verses in the Bible and which he places "into their proper context so that they can be interpreted and applied correctly."