The Quarterly Journal
Summer 2011
Feature Articles:
• The Hebrew Roots Movement: Deeper Insights or Elitist Movement?
• The 400th Anniversary of the King James Version of the Bible: The History, Values, and Limitations of the KJV Translation
Editorial:
• The Mystique of Assumption
News Updates:
• Camping Fails Again
• Hinn Sued by Publisher
• Lead "Artifact" of Deep Secrets Met With Skepticism
Book Reviews:
• Instruments in the Redeemer's Hands written by Paul David Tripp
• 10 Questions & Answers on Seventh-day Adventism edited by Paul Carden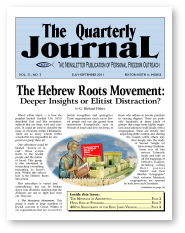 © 2019– Personal Freedom Outreach. All rights reserved.