The Quarterly Journal
Summer 2019
Feature Articles:
• A Communion Table for One – Beni Johnson's Strange Ideas About The Lord's Supper
• Social Justice – A Mission Drift That Adds to the Church's Divine Mandate
Editorial:
• Christian Zionism 101
News Updates:
• Mormons Allow Baptisms for Children of LGBT Parents
• Chan Says He's Not Moses
• MacDonald Fired by Church He Founded
Book Review:
• Why Does God Allow Evil? by Clay Jones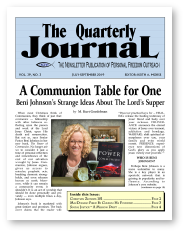 © 2019– Personal Freedom Outreach. All rights reserved.