The Quarterly Journal
Summer 2007
Feature Articles:
• When Godly People Teach Ungodly Theology – The Subtle Error of Beth Moore
• Have They Really Discovered the Family Tomb of Jesus? – Separating the Facts from the Froth
• Have We Misunderstood Paul All Along? – A Critical Look at the New Perspective on Paul
Editorial:
• Just When I Thought I Heard It All!
News Updates:
• Da Vinci Code Linked to Suicide
• P&G Lawsuit Cleans Up
• Leaving on a Jet Plane
• Cerullo Heads to Court
Book Reviews:
• A Thirst for Wholeness written by Jay E. Adams
• Ten Questions to Diagnose Your Spiritual Health written by Donald S. Whitney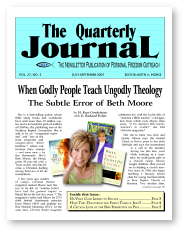 © 2023– Personal Freedom Outreach. All rights reserved.